Easily, the question I am asked the most is "are we in a buyers market or sellers market?" Any real estate agent who is paying attention would tell you the market is undergoing a shift. A shift from utter seller control and leverage (few homes available and the clock is ticking on the next interest rate rise) to a market where the buyer holds all the cards (plenty of choices and interest rates falling.)
One journalist probably scared half the nation yesterday when he published a headline "Now that Housing Bubble #2 is Bursting, How Low Will It Go?"
The 3 bullet point summary:
Unless the Fed is going to start buying millions of homes outright, prices are going to fall to what buyers can afford.
It will take as long for prices to fall as they took to rise.
The only question of any real interest is how low prices will drop by 2025.
Those writers eat, sleep and drink statistics, so it is could be alarming to home owners who are sitting on, in many cases, considerable equity. I need to spend a moment on technical reasons why I say the market is changing, but not like the author suggests.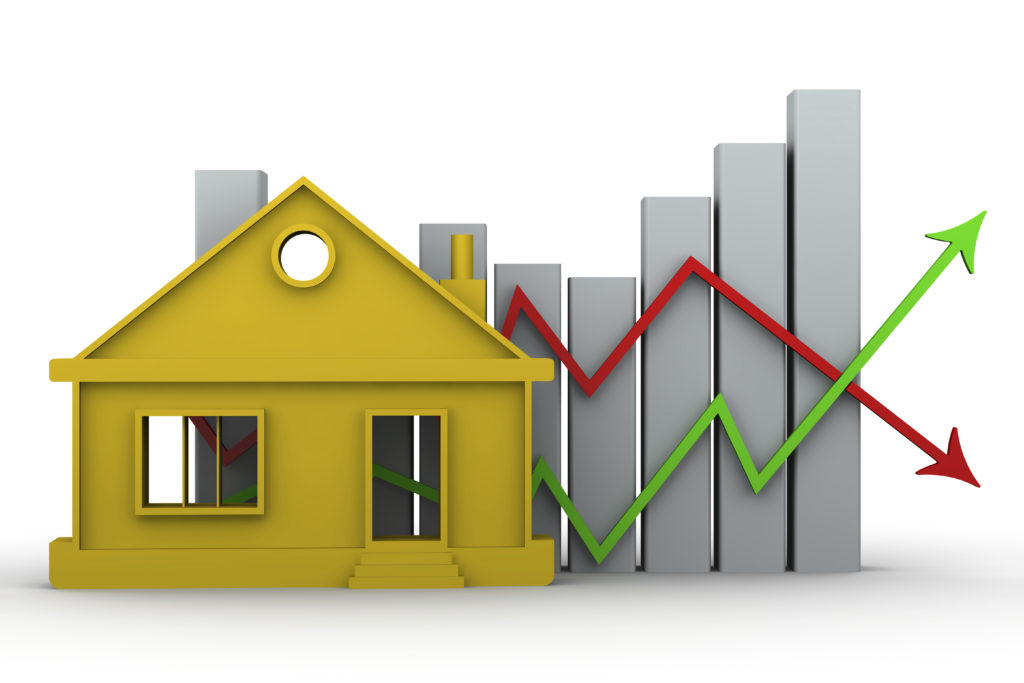 Back in 2008, the bottom fell out of the market due to the massive numbers of bad loans. Now, we are seeing a change brought about by simple economics. In SoCal, it's about supply and demand, burdensome student loan debt, and Baby Boomers unwillingness to move out of homes with sub 4% mortgage loans, and undermarket pre prop-13 valuations.
Helping buyers, mortgage rates have fallen almost a half point from a few months ago. THAT IS HUGE.
That development alone will make this a soft shift, and not a sharp drop-off in home values.
The nationwide market's thirst for inventory is being quenched, and the supply of homes is approaching neutral territory. A 5-7 month supply of homes is considered a healthy market, where neither buyers or sellers have the upper hand. Most neighborhoods in SoCal have shifted from a 1 month supply to a 3.5 month supply in the last 6 months.
Those statistics are in the past. What is in the future?
One way to predict it is to see what has happened in each of the last 5 years. June is typically the high water mark price-wise each year, while January is the low point each year.
Each year, prices slowly recede from their height in June downward to January of the following year before they begin their rise again. Take a look at all of SoCal below.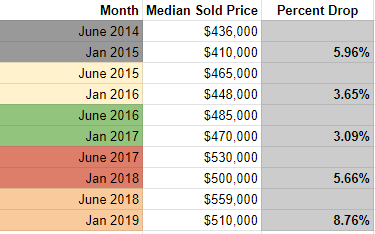 In January 2015, prices had dropped 5.96% from their previous high. By January of 2019, prices had fallen 8.76% from the previous high. Yes, they will rise again, all the way to June, but by how much?
Let's look at the year-over-year price RISE from June to June. Each year, the market saw gains of 6.6%, 4.3% 9.3% and 5.5%…. That's an average of 6.5% a year. If prices were to rise 6.5% from last June to THIS June, prices would have a median price of $595,000 in 3 short months from now. Will that happen? Yes. In fact, they're already there. The median price for all homes sold in SoCal in the last 20 days? $602,000! Does that sound like a collapsing home price market?
In Santa Clarita, the current median sold price is $533,000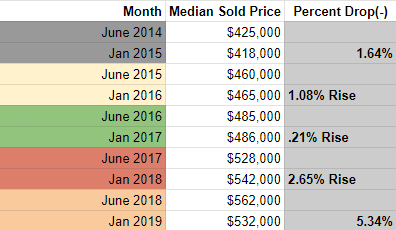 Santa Clarita is different. In 3 of the last 5 years, prices didn't even fall from June to January, and they have fallen less each year than the rest of SoCal. The desirable Santa Clarita home market is much less susceptible to big price swings each season. So Far…..
Year over year gains in the SCV have been around 7.74% since 2015. That means Santa Clarita should expect prices to be at $605,000 in 3 months. Recent median sold prices have been $540,000 in Santa Clarita, so the SCV has a long way to go to reach $605k. Prices would need to rise 10% in the next 3 months. That will not happen. Expect Santa Clarita prices to rise just 1-2% for the rest of the year.
The Market Action Index (MAI) is a metric from 0-60 that shows supply vs demand on a graphic. Values on the chart OVER 30 suggest a seller's market. Here are values for 4 SCV cities.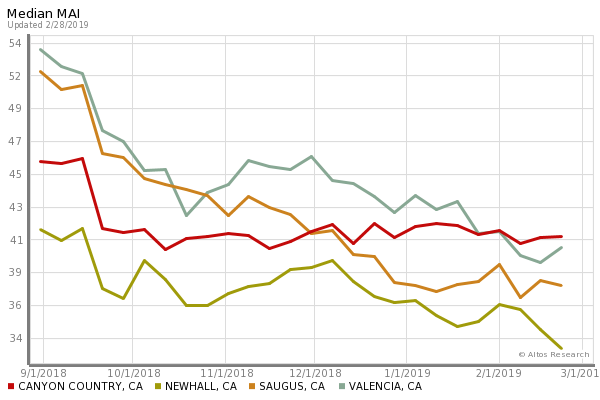 So…. over 1000 words here and what is the take-away?
The market is stable. The market is fine. It is not going anywhere South. But it is NOT going North either…. Enjoy the balanced housing market.
You might also like: Mortgage Do's and Dont's